Stacking Continues To Happen (2020/21)
A not-quite-exhaustive yet sweeping spiral that visually weaves in and out of 200 years of chair design - endlessly stacking, slicing, cutting and ripping its way through the most iconic British and international masterpieces, everyday contract mainstays and student prototype wonders.
Fueled by my fascination and adoration of the humble chair as an object and combined with my collage art practice, the project began a few years ago with a collection of found images of chairs and seating from various books and magazines.
The collected images were crafted directly into each spread using analog collage techniques, and set against a backdrop of alternate black and white pages - every side contrasting with its facing page. This is my first book project and also my first collage series within this intended format.
The project draws on aspects of repetition, layering, bonding, folds and bends, materials and processes as well as form/colour/shape - all synonymous with both collage and chair design / production.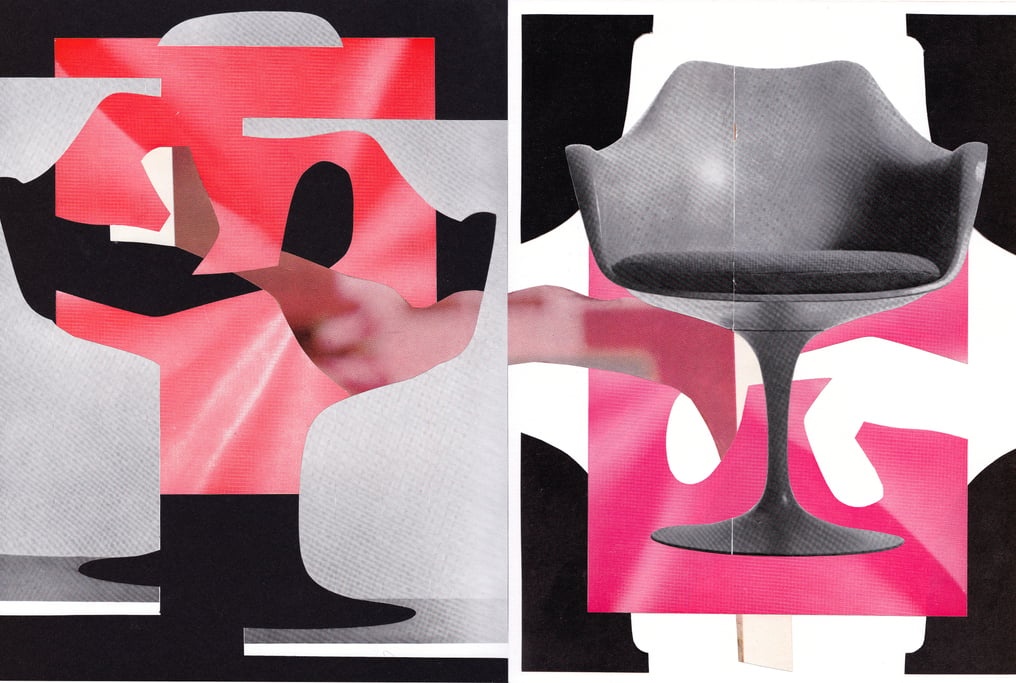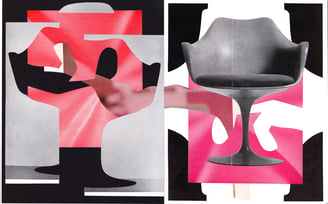 Tulip model No.150, EERO SAARINEN, 1955-56.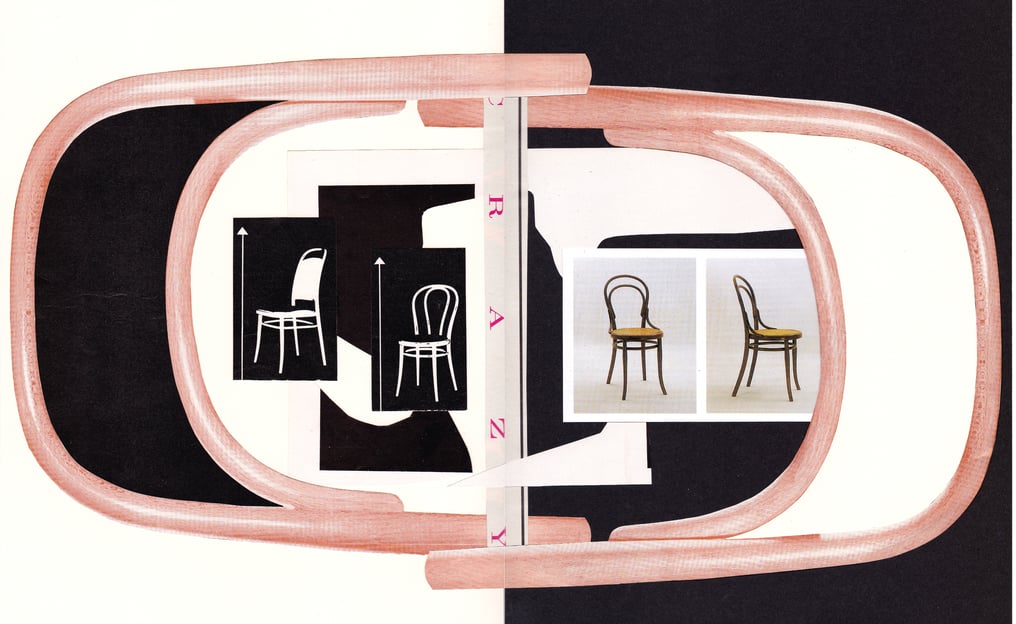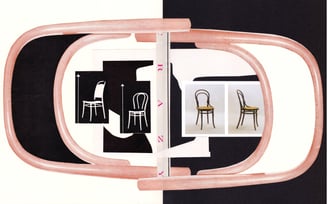 LEFT INSET / OUTER:
Bentwood Chair Advertisements, LIGNA FURNITURE, 1960-70s;
RIGHT INSET:
Chair No.14, MICHAEL THONET, 1859.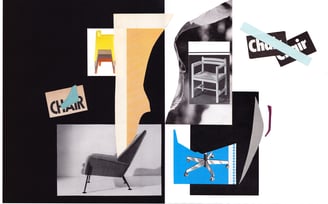 LEFT PAGE:
Toy Stackable Armchair, PHILIPPE STARCK, 1999;
The Heron Armchair, ERNEST RACE, 1955;
RIGHT PAGE:
FDB Chair, BORGE MORGENSEN, 1940s.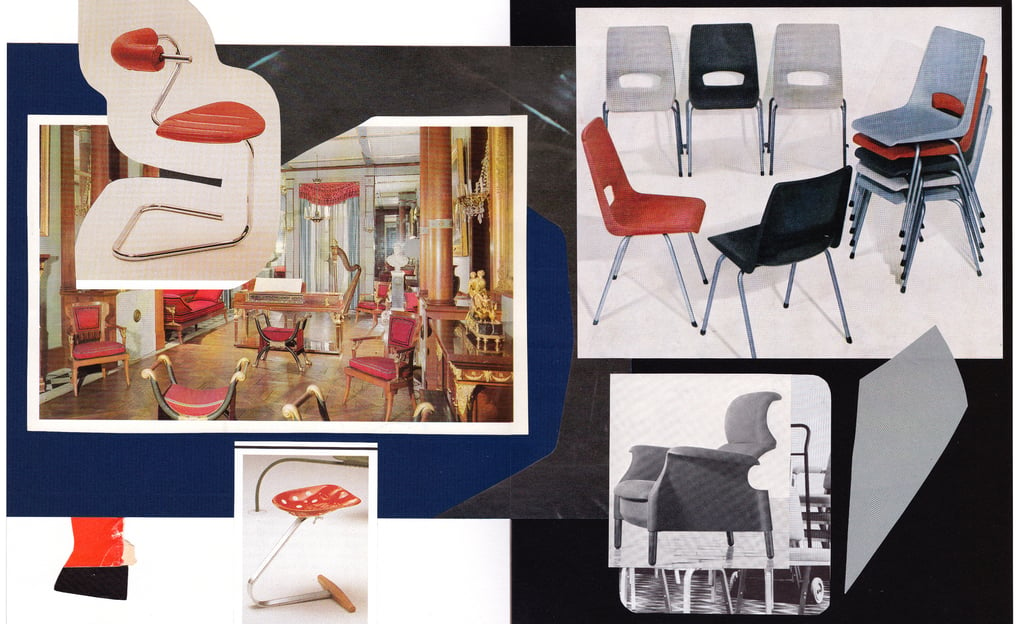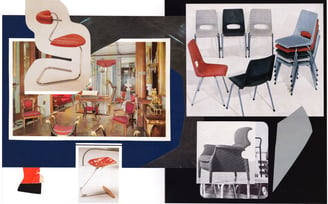 LEFT PAGE:
Einschwinger-B5, STEFAN WEWERKA, 1982;
Music Room At The Napoleon Foundation, Paris;
Mezzadro, ACHILLE & PIER GIACOMO CASTIGLIONI, 1957;
RIGHT PAGE:
Plastic Stacking Chair, PHILIPPUS / POTTER (For PEL Ltd), c1967;
Sanluca, ACHILLE & PIER GIACOMO CASTIGLIONI, 1959.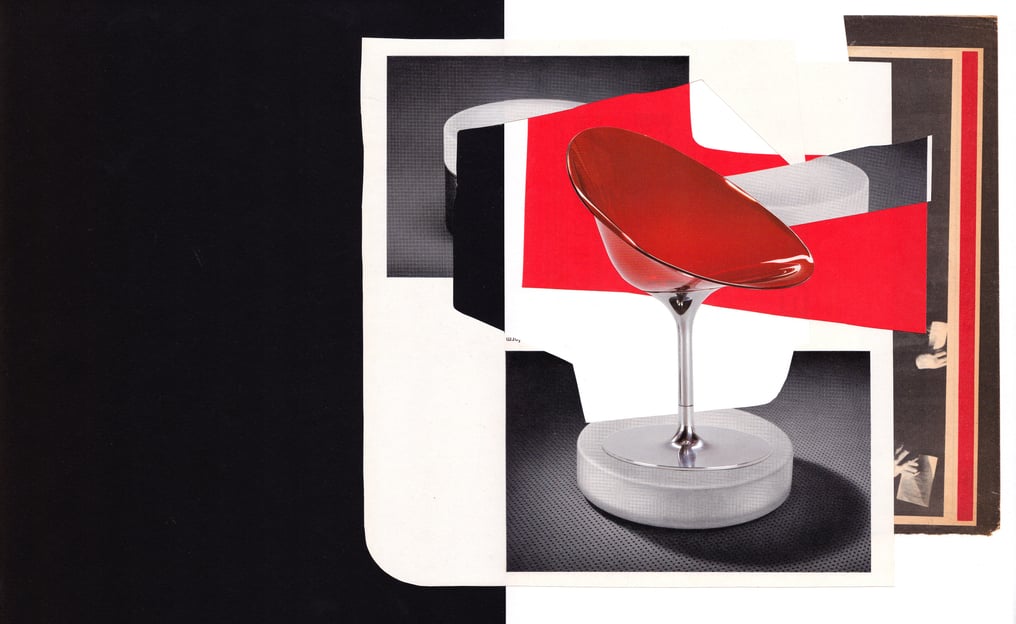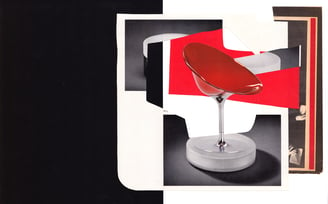 Ero/S Swivel Chair, PHILLIPE STARCK, 2001.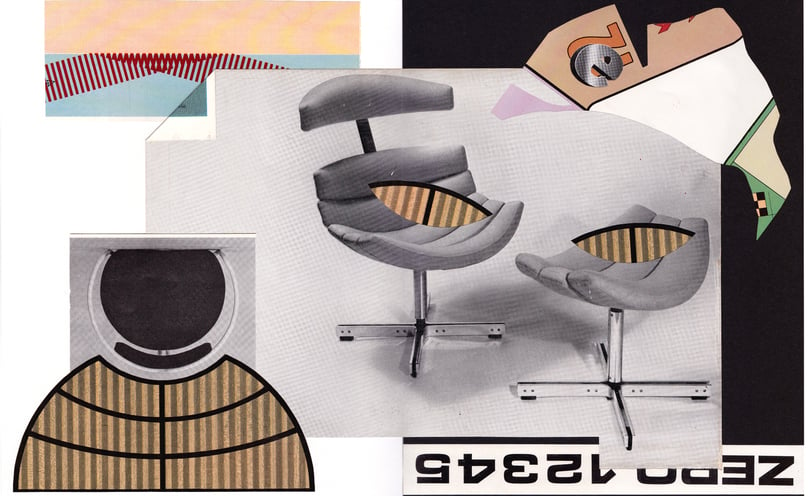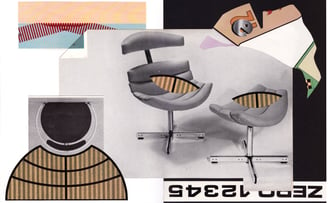 LEFT:
Tubular Round Chair, A.SIMONIT & N.SARTORI, 1970s;
RIGHT:
Epsom Range Chair, WILLIAM PLUNKETT, 1966.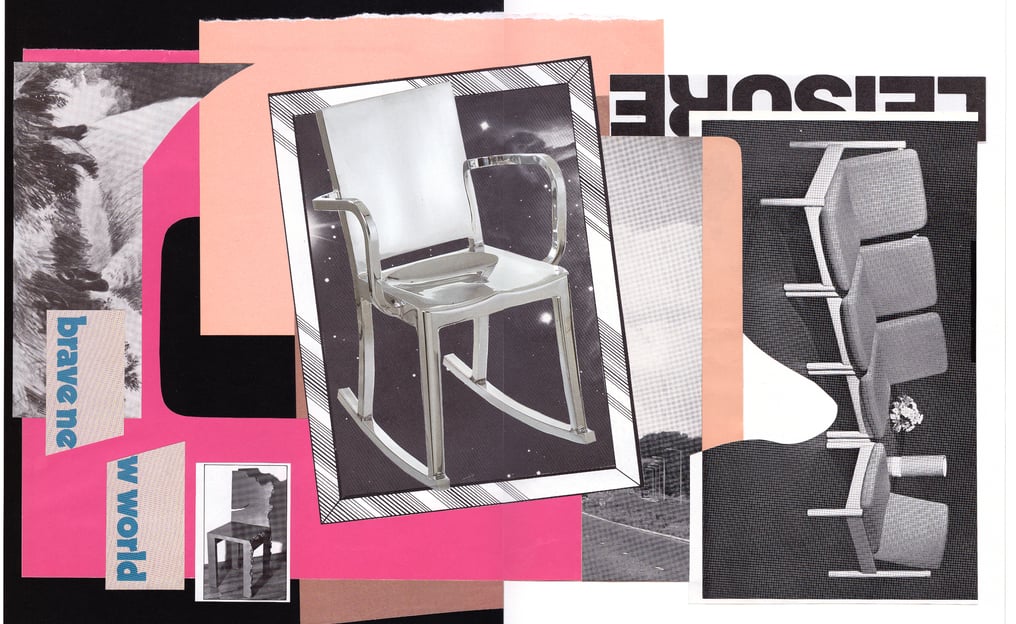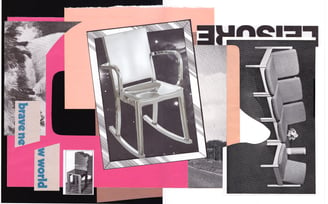 LEFT TO RIGHT:
'Nothing Continues To Happen' Chair, HOWARD MEISTER, 1980;
Hudson Rocking Chair, PHILLIPE STARCK, 2000;
Modular Theme, ERCOL FURNITURE, 1980s.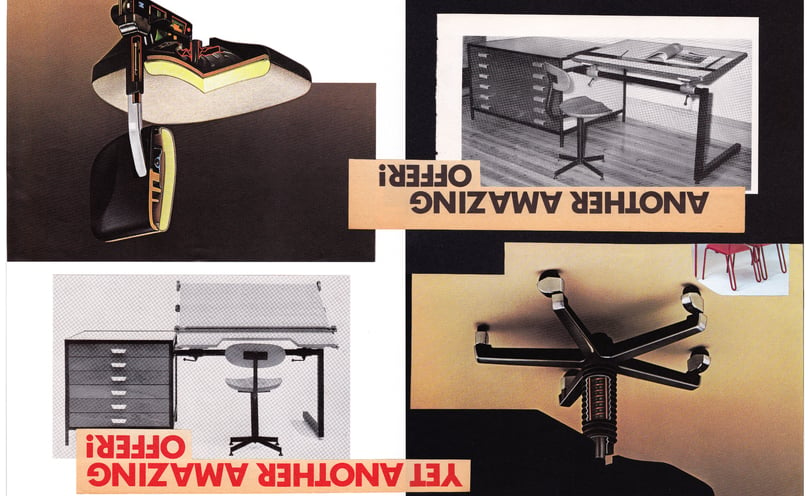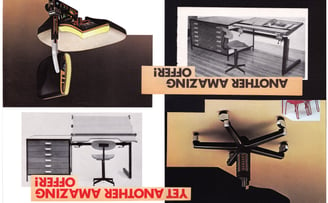 Nova Special A680-DI, SEDUS, 1970s;
Swivel Chair with Drafters Desks, MAGPIE FURNITURE, 1950-60s.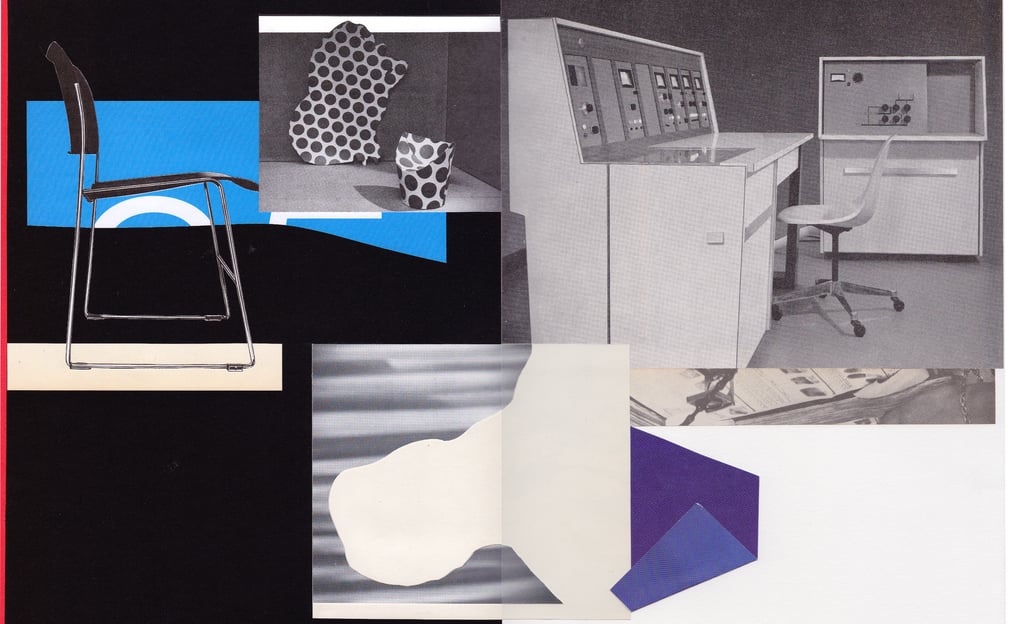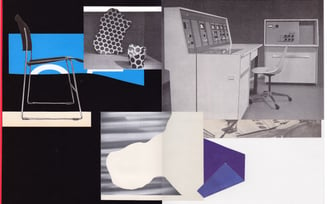 LEFT TO RIGHT:
GF 40/4 Chair, DAVID ROWLAND, 1964 (40 Chairs stack to 4 feet high);
Spotty Chair, PETER MURDOCH, 1964;
Plastic Side Chair PSCC, CHARLES & RAY EAMES, 1957.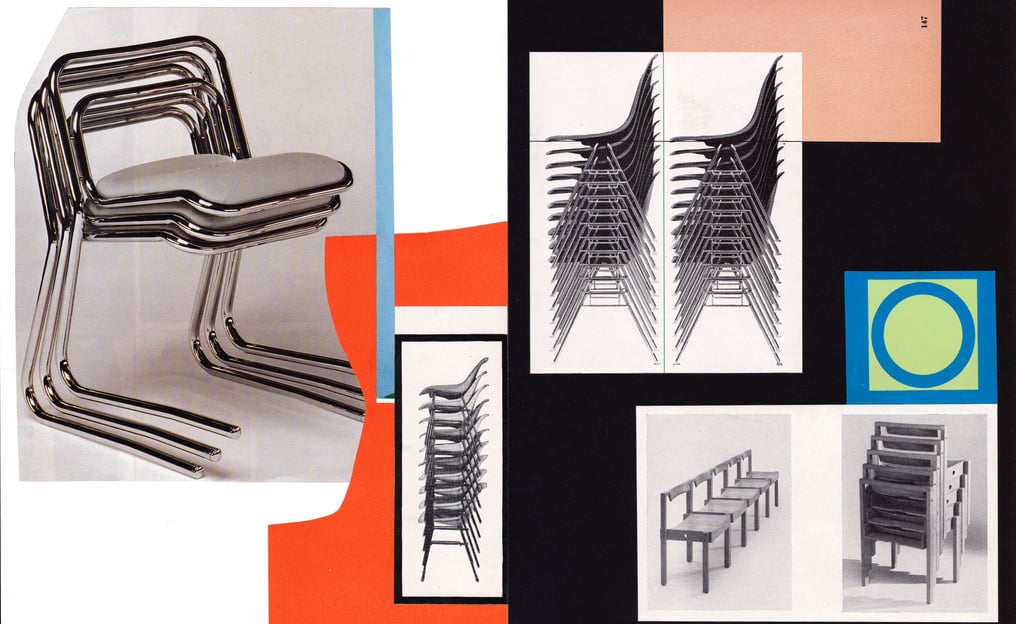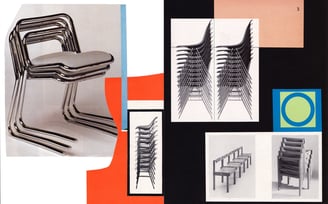 LEFT TO RIGHT:
Chrome Tubular Stacking Chair, UNKNOWN, 1970s;
The 'Profile' Stacker, CATESBY'S LTD, 1960s;
DSS Plastic Side Chair, CHARLES AND RAY EAMES, 1950;
Coventry Cathedral Chair, DICK RUSSELL, 1960.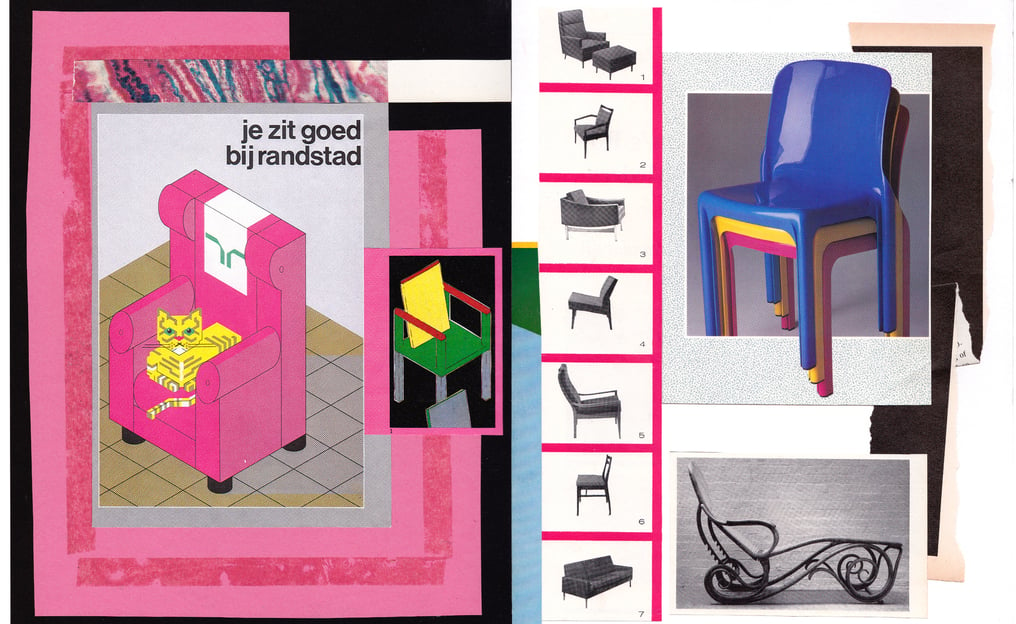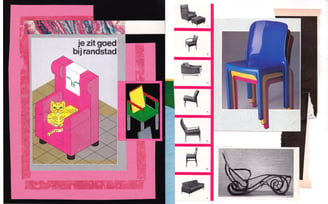 LEFT TO RIGHT:
Randstad Poster Design, BEN BOS, 1977;
Palace Chair Drawing, GEORGE SNOWDEN (MEMPHIS GROUP), 1983;
Various Contract Furniture, CINTIQUE, 1950s;
Selene, VICO MAGISTRETTI, 1968;
Lounge Chair, MICHAEL THONET, 1910.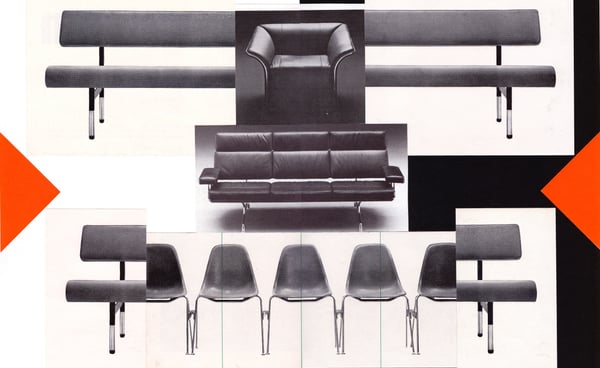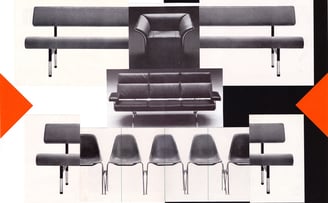 CENTRE TOP TO BOTTOM:
The Ming Chair, KWOK HOI CHAN, c1973;
3-Seater Leather Sofa, CHARLES AND RAY EAMES, 1980s (Final Eames Studio Design);
DSS Side Chair, CHARLES AND RAY EAMES, 1950;
LEFT + RIGHT:
British Rail Settee, ROBIN DAY, 1950s.